Normally Unmanned Installation (NUI)
CRE8's solution for Normally Unmanned Installation (NUI)
CRE8's long experience within design of remote hydraulic systems to Subsea Projects have been a great advantage when designing hydraulic systems for unmanned platforms.
We have selected components with high MTBF figures and low rating in regards to external or internal leakages. This combined with our philosophy of easy access and logical lay-out has been well received by our customers for remote controlled unmanned platforms.
Please contact us for a detailed 3D presentation of our complete solution for unmanned platforms.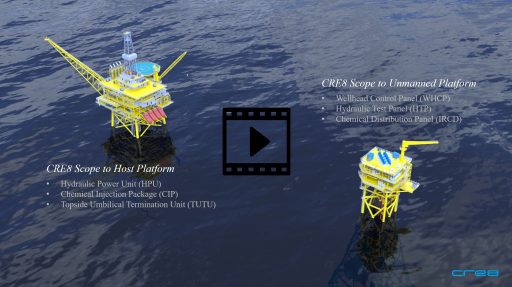 Our design pay extra attention to the following:
Cost effective solutions

Minimum size, footprint and weight

Reduced potential leakage points

Operation and service friendly design

Capacity to further expansion with minimum impact

Full remote control and monitoring

Minimum need for maintenance

Logical lay-out and easy access to all components
CRE8 has successfully delivered the following packages for Host Platform and Unmanned Platform on Oseberg Vestflanken:
Hydraulic Power Unit (HPU)

Chemical Injection Package (CIP)

Topside Umbilical Termination Unit (TUTU)

Wellhead Control Panel (WHCP)

Hydraulic Test Panel (HTP)

Chemical Distribution Panel (IRCD)